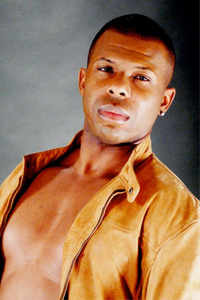 Creator, Artistic Director and Choreographer
Los Angeles based Anthony W. Johnson is the force behind Ballet Magique and has spent over two decades mesmerizing audiences throughout the America and the around the world with his unique and creative artistic interpretation of form and movement.
Anthony has worked alongside some of the greatest entertainers of our time from Paul McCartney to The Backstreet Boys and he has performed for some of the worlds most prestigious ballet and opera companies. Anthony's impressive and varied career as an award winning dancer and choreographer has enabled him to fuse this practical experience with a natural flair for innovation to create what has ultimately been his lifelong vision to fuse dance, magic and martial arts. He has collaborated with and been mentored by some of the most prolific and accomplished engineers, magicians and technicians to produce what is destined to become a global phenomenon. The merging of these two magnificent art forms is spectacular. This is dance and magic presented in a way that has never been seen before.
Resume (click to open)
Awards
4 Lester Horton Award nominations
"Outstanding Achievement in Choreography" for Ballet Magique's "Ring of the Rose
"Outstanding Achievements in Costume, Set and Lighting Design."
Nobutaka Mochimaru also received "Male Dancer of the Year" from The Beverly Hills Outlook for his performance with Ballet Magique
Performance Credits-Soloist
The Lyric Opera of Chicago
The Los Angeles Opera Company
Ballet Theatre of Chicago, Ballet Chicago and Chicago Festival Ballet
Further Performance Credits
Ballet of Rotaru
Tampa
Colorado Ballet
Contemporary Ballet Theatre and the Moscow Ballet
Ballethnic
The Lula Washington Dance Theatre
Atlanta Ballet
The Los Angeles Opera Company
Physical Rhythm Project
James Kelly Project
Second City Ballet
"Those Funny Little People"
Colors Dance Theatre
Demetrius Klein & Dancers
Performance Hightlights
"Marat/ Sade"
Jomandi's production of "Dreamgirls"
Randy Newman's Faust
Several productions at The Black Ensemble Theatre in Chicago Illinois
Nominated Best Actor for his role as "Tommy Gomez in "Me and Ms D"
"A Streetcar named Desire"
"The Amen Corner"
Television and Film
"Son of the Beach"
"Hoodlum"
"Skin Walker"
"The World Magic Awards"
"Jackson's: An American Dream"
"Pirates of the Caribbean: Dead Man's Chest"
"The Land of the Astronauts" starring David Arquette, Vivica A. Fox, and Bijou Phillips
"Séance."
Choreography Highlights
"Burn This"
"Brighton Beach Memoirs"
"The Skin of our Teeth"
"Dream Girls"
"Small-Town Boy"
"The Backstreet Boys
The World Magic Awards
Arista Records 25th Anniversary
Paul Lekakis
Empress
Salon Kand
Paul McCartney Tour
Training and Mentors
Debra Brown (Cirque De Soleil)
Shamiel Yagudin (coach of the Bolshoi Ballet)
Donald MacKayle (Alvin Ailey Dance Theatre)
Laura Alonso (National Ballet of Cuba)
Assaf Messerer
Haydee Gutierrez
Jurgen Schneider
Gretchen Warren
Irina Kopakolva
Martin Friedman
Larry Long
Ken Von Heidecke
Pavel Rotaru
Robert Barnett
Shamiel Yagudin
Barbara Sandonato
Carlton Johnson
Gus Giordano
Ken Johnson
Sandra Robinson
Gallery
Click on image to enlarge